About Simple Plan Foundation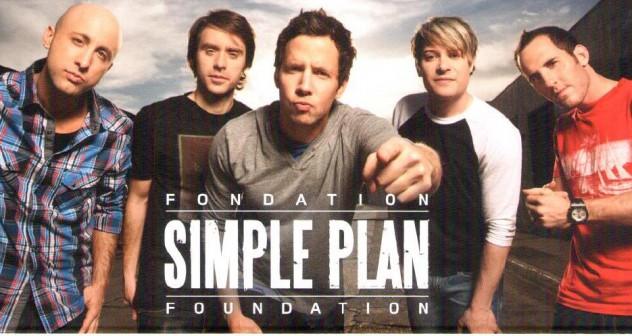 Foundation
The creation of the Simple Plan Foundation was announced when the band sold about 4 million álbum copies around the world, at their first Bell Center Show on December 2005, where the band felt that it was the perfect time to not only create a foundation to help people in need, but also, keep it going year after year.
Team
Beside Simple Plan members (Chuck Comeau, David Desrosiers, Jeff Stinco, Pierre Bouvier and Sébastien Lefebvre), the board of directors consists along with:
– President André Prud'Homme, first vice-president, CIBC Wood Gundy;
– Comeau's father, Pierre André, who is a lawyer at the firm Dufresne Hébert Comeau;
– Anne Valérie Ménard, whose father Jacques, chairman of BMO Nesbitt Burns and president of BMO Financial Group, Quebec, is an honorary president of the Foundation's fundraising events;
– Catherine Sharp, marketing director at Canon Canada.
Purpose
A Simple Plan Foundation became part of who the band is and allowed them to stabilish a stronger relationship with fans around the world because they could find even more support in their idols. The foundation proves that the power of music is very strong and important to people.
The aim is to support disadvantaged young people who are in transition to adulthood and also support victims of terminal illnesses such as cancer. The foundation also believes that music is an important tool to help them find a passion in life, keeping them away from crime and avoiding to stop droping out school.
Activities
– Help the various groups and organisations working with young people facing typical teenage problems: drugs, depression, bullying, school dropping out, suicide, poverty, and those affected by war;
– Support various social and medical organizations dedicated to helping ill and handicapped children and youths;
– Promote musical training in schools as a way of helping young people develop a passion and find a purpose in life .
Donations
The Simple Plan Foundation counts on volunteer donations, particularly via the website. Also, they count on collections through partners like Canada Helps, since the foundation has registered with it.
The band also helps the foundation with the merch of shows, a quantity of fans submission on Simple Plan Crew Fan Club, some percentage of sales of some concert tickets, some music downloads, as the case of the song "Save You" from the self-titled album.  In addition to that, there are also benefits events in support of the foundation.
Institutions Helped
– War Child Canada (LEUCAN)
– Kids Help Phone
–  Portage Foundation
– Foundation Les Auberges du Coeur
– The Lighthouse
– Montreal Children Hospital
– Dans La Rue
– CHU Sainte-Justine Hospital (Garage à Musique program)
– Canadian Red Cross for the victims of typhoon Haiyan in the Philippines
– Multiple Sclerosis Society of Canada
– Montreal Children Hospital Foundation
– Mental Illness Foundation
– Culture X Montreal Nord
– Gris (demystifying homosexuality), and much more.
Campaigns
War Child Canada: helping victims of the crisis in Congo, a donation matched this year by the Slaight Family Foundation.
Sainte-Justine Hospital Foundation:  dedicated to the Simple Plan Multi-media roomproject, a special area equipped with the latest electronic equipment & new technologies, dedicated to the service of multi-specialties & transplant department, in the hopes of improving the quality of life of it's young patients who will often spend very long periods of time hospitalized.
Dr. Julien Foundation:  for the purchase & renovation of an abandoned community center in order to consolidate the Garage à Musique project, and thus offer an accessible et safe environment to troubled youth towards the development & practice of music, as a stimulating alternative to potential destructive behavior or dropping out of school.
Representatives of these three organizations were present and spoke about the huge benefits of these generous donations.
Beyond these specific organizations, the Simple Plan Foundation continues to support various causes, for instance anti-bullying campaigns such as Jeunesse J'écoute, GRIS, and Tel-Jeunes via their Intimider c'est dépassé campaign. Additionally, Pierre Bouvier has just recently participating in the Artists against Bullying campaign, joining several of Canada's top artists  to record a new version of the Cindy Lauper classic True Colours.
Internationally, the Foundation continues to offer its support to a number of humanitarian causes, such as the fight against modern human trafficking around the world, recently playing a sold-out show in Hanoi in collaboration with MTV Vietnam for this particular cause (also with the cause on This Song Save My Life videoclip).
For more information, click here.
Awards
Due to their work at Simple Plan Foundation, many disctinctions were received during the years. Among them, we have the Allan Waters Humanitarian award, shown all over the world, the YMCAs of Quebec Honorary Peace Medal and  the Queen Elizabeth II Diamond Jubilee Medal. Know more about it clicking here.
Make a Donation
You can help  the Simple Plan Foundation by donating and supporting the cause. See how:
– Online : If you want to pay by credit card, you can use anytime and anywhere in the world the online donation site CanadaHelps.org, available on the foundation's Web site

– Cheque : You can also send a cheque at the order of the Simple Plan Foundation, at the following postal address: Simple Plan Foundation, 800 Place-Victoria, Suite 4500, P.B. 391, Montreal, QC, H4Z 1J2

– Email : You can contact them anytime at info@simpleplanfoundation.com
N.B.- Please send them your name and address, if you wish to receive a tax receipt.

For more information, check out their official website: simpleplanfoundation.com

This content was created by: Felipe